People
FSL counts on its staff of devoted and talented employee as its greatest resource and firmly believe that they are the primary reason for its success. FSL is owned and managed by a group of committed professionals with qualifications in engineering and management Company's technical staff has got good experience developing application and system software on a wide range of hardware Platforms.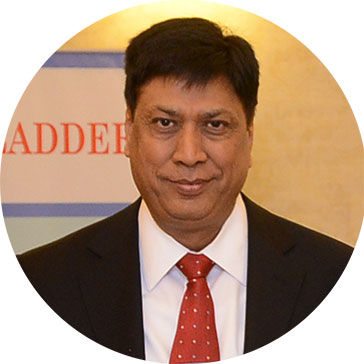 Mr. Rakesh K Jain
Founder of FSL Software Technologies Ltd.
An alumnus of Shri Ram College of Commerce with Masters in Commerce and rank holder Chartered Accountant of The Institute of Chartered Accountants of India, Qualified in 1979 batch, has over 42 years of experience in the field of capital market, taxation including international taxation,mergers,acquisitions,software etc.

He had been on the Board of Association of NSE Members of India (ANMI), Chairman of Northern Region, in 2002-03 was Alternate President (New Delhi), and during 2003-04 was all India President of ANMI. Had also edited a chapter on foreign collaboration agreement in the book titled "Mogha's Indian Conveyancer" sometime in 1991.

He has authored a book titled "Leaders & Ladders" dealing with organization building in 2016. Has acted as Chief Technical Advisor for "Master of Business Finance" Course (2008-09) and "Course on Valuation" (2007-08) conducted by the Institute of Chartered Accountants of India.

In the year 2020, he was appointed by Ministry of Corporate Affairs as member of Investor Education and Protection Fund Authority by gazette notification dated 8th July, 2020.

He had also contributed to NACAS (National Advisory Committee on Accounting Standards) sometime in 2016-17, setup by Ministry of Corporate Affairs as a special invite.

He has also been involved with various committees set up by various Institutions like ANMI, SEBI, ICAI, PHD Chamber of Commerce, etc.

He has been actively involved in writing articles, delivering lectures and has been part of delegations to various authorities from various Forums. He has also been involved in various entrepreneurship and organization building programmes.